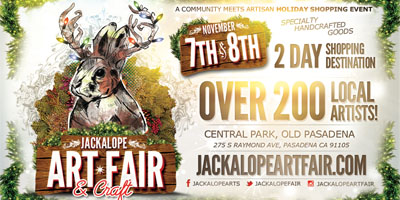 Hey Californians! I wanted to let you know about the 2nd Jackalope Art & Craft Fair that is coming up soon! The Jackalope Art and Craft Fair will be uniting 200+ indie artists and art enthusiasts for a weekend shopping destination.
WHAT: ?Jackalope Art & Craft Fair – A community meets artisan event, featuring 200+ artisans with handmade, specialty goods.
WHEN:? Saturday, November 7th 10am-5pm and Sunday, November 8th 10am-5pm
WHERE:? Central Park, Pasadena CA – 275 S. Raymond Avenue, Pasadena CA 91105
Not only will it be a craft show with over 200 booths, but they are also offering free workshops for all ages! I think that's what I find the most interesting!
You can get more info about this fantastic arts and craft fair here— Jackalope Arts