Nov
6
The Sampler is working with its Contributors on a brand new project: Exclusive Collaborative Prints — yet another way of creating awesomeness for Sampler fans while supporting their Contributors!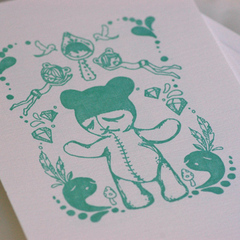 The first in the Collaborative Prints project is this adorable illustration by Melissa Contreras of Axelhoney.com. Each print was hand-printed onto 5"x7" archival cardstock by Alison Gordon in a seafoam pearlized ink. I own prints, figurines, and jewelry from Melissa so I can't say enough about her work! And at $7.00 a print you can't not want to own this cute illustration! So support Melissa, The Sampler and Indie business all in one with these awesome prints!
By Jamie
You may also like...
Comments