Yesterday, I told you all about the basics of Design Dye. Today? I'm going to tell you about all the cool things beyond the basic "this paper dyes fabric!" excitement. Because Design Dye isn't just a one trick pony–it's got …
Have you heard about the return of Design Dye? Design Dye is a unique fabric dye option that allows you to treat fabric dyeing just like you would paper crafting. Each sheet of Design Dye acts just like paper–you …
A few weeks ago the nice folks over at Uncommon Goods contacted me and offered me the chance to review their new Kantha Blankets. The Kantha Blankets are handmade in India, by workers who are protected under the fair trade …
(Photo by K&Company: SMASH)
I was lucky enough last week to receive the above journal in the mail from K&Company. Smash Journals aren't exactly scrapbooking, more like scrapbooking for those who don't have time or patience for actual scrapbooking. (Although …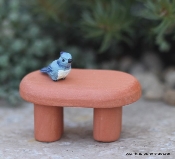 Who knew that you could get tiny garden stuff of a tiny garden?! Every possible thing you might need to a tiny garden is on this website. MOST excellent for creating all those indie terrariums you young folk are making …
Dry erase paint. As awesome, or awesomer, than chalkboard paint! The paint is clear so it just goes over whatever your wall paint color is.
dry erase paint – 30 sq ft – whiteyboard.com.…

I love that there are so many apps coming out to help the small creative businesses out there. You may have gleaned from reading this blog that I help organize the annual Conference of Creative Entrepreneurs. One of our …
Intuit has a new iPhone app for business owners called Weave.
I have only just downloaded it and entered some things that need to happen for me this week. So far it has been easy to figure out and …
You know there is a whole 'No Shampoo' movement out there. It's really quite interesting. There are a ton of places online to read about and several techniques for keeping your hair clean and nice. Nicer than if you …
Heehee. You must watch this video for Twinkie Chan's new book. First off their necklaces say 'Tight Hooker'. Ahahahaha. Second of all, how outrageously cute are they with their balls of yarn falling everywhere and their cute outfits?! I'm …
I saw a bunch of these gorgeous fancy hats at a shop the other day and when I picked it up to investigate it I realized it was made from brown paper. Neat!
The hats are made by Jennie Hart …
Vendr looks like an interesting shop alternative. It's an easy to set up shop that pops up over your existing website. It is nice to have your customers able to buy stuff with out having to leave your site but …
This Rabbit in Wonderland necklace was made by CosmicFirefly on Etsy. Her jewelry has a lot of nice details that I'm really appreciating right now. On this necklace the swallow charm looks like it is holding the rabbit charm in …
I'm dying for someone else to execute all my blank nesting doll ideas…
- eskimo, polar bear, seal, penguin, penguin egg (or maybe an awk).
- set of 5 cthulhus
- set of 5 cryptids
- sharks or octopi
I …
This is so neat! Fun for a girl or a boy! You can buy this fabric that acts just like a chalkboard surface. You can sew it, write on, and erase chalk from it.
Vogue Fabric Store has it for …
keep looking »