Those of us with a geek (or several geeks) in our lives know well that they can be tricky folk to shop for. Finding the perfect balance of nerdy and useful can be challenging. (Sure that giant fake mustache looks nice, but …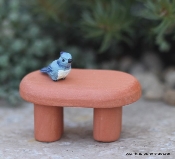 Who knew that you could get tiny garden stuff of a tiny garden?! Every possible thing you might need to a tiny garden is on this website. MOST excellent for creating all those indie terrariums you young folk are making …
Oh man, I want this! Clearly this is destined to be an heirloom of the Stitchalicious house.
You should check out all the amazing work by Jacinta Lodge on her website here.
You can buy the pattern in her …
These wooden flowers are by a husband and wife team on Etsy. Their shop is called uncommon and they have it filled with wonderful wooden accessories, ornaments, wall decor and more. If my cats wouldn't destroy these gorgeous wooden flowers …
This is a really interesting business. Stay Vocal rescues used t-shirts by turning them inside out and printing on them and reselling them. That's a great idea! The t-shirts that can't be rescued whole get cut up and hemmed for …
I mentioned cargoh.com a few days ago as a great source of curated indie goodies. While poking around the site I noticed the GIRL CRUSH art workshops and tea party. This looks like such a fun idea. Imagine getting to …
Here's an excellent article about the Do's and Don'ts of selling on Etsy from Cath Young (of My Bearded Pigeon) on Epherielle Designs.
She makes a lot of great points! Read the article here: The Do's and Don'ts …
Dashing Fox print by Charlie Corrigan on Etsy.
Dashing Fox 8×10 Print by BarnumsWinter on Etsy.…
This is an awesome craft room. It helps that it is crammed full of tiny stuff. I love tiny stuff.
This craft rooms uses IKEA furniture very creatively.
Hobbyrum: miniatyrverkstad | Redaktionen | Inspiration från IKEA.…

I met the clever individual behind Mr. Deadfish at the SF Bazaar Bizarre this weekend. Her taxidermy scarves are adorable. You can check out the Mr. Deadfish Etsy store here and she also does customs work, so if you …
Spoonflower is having a fat quarter sale, 2 for the price of one, so you can order your tea towel calendars and get a great deal! I think they recommend that you choose the linen canvas fabric choice when ordering …
Dry erase paint. As awesome, or awesomer, than chalkboard paint! The paint is clear so it just goes over whatever your wall paint color is.
dry erase paint – 30 sq ft – whiteyboard.com.…
Things People Make is a new site for crafters to share their projects and tutorials. The site is still in beta so it's a great time to go check it out and give feedback.
You can also sell things through …
I really like this crime scene tape camera strap.
The one pictured here is from this website: 2 inch Camera Strap CSI Crime Scene DO NOT CROSS – Special Order Only.
You can also find one  at My Funky …
Xenia Taler creates these lovely tiles. Check them out, they are all so beautiful! They make thicker tiles appropriate for trivets and such and also thinner tiles for installing as a backsplash or tabletop. Neat!
The tiles are …
« go back
—
keep looking »