Nov
5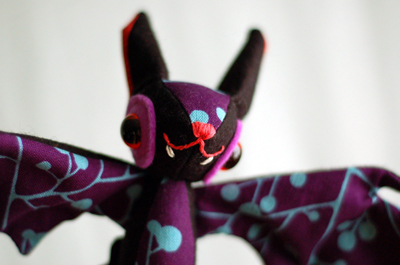 My kid thinks all bats are Stellaluna and he says Stellaluna like this "Elloloolooolooloona" which, if you have a kid (if you don't have a kid you probably don't give a crap and I don't blame you one bit), is like the cutest thing ever. Speaking of kids and stuffed animals you would not believe the restraint I have brought to bear in the buying my kid stuffed animals department. We have been to several zoos, aquariums, parks, toy stores, etc. and I have bought him nary a stuffed animal. All his animals were either hand me downs from friends, his cousin, me or his dad or from Ikea.
Anyway. I like this bat pattern from Cynic the Lamb on Etsy a lot and her fabric choices for the photos are superb. This one is on my list. As soon as I actually sew some softies form the patterns I have already purchased this one will be next!
Cynic the Lamb has several other patterns and already sewed softies for sale in her Etsy shop and you can read her blog here. OO! Looks like she will be at the Bazaar Bizarre in SF this winter! I can't wait to check out her shop.
By Minnie
You may also like...
Comments