Jan
7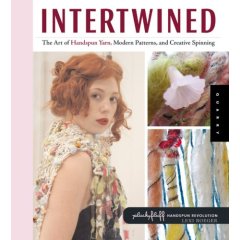 Lexi Boeger is also know as Plucky Fluff to the Indie spinning crowd! And her penchant for art yarns, alternative spinning styles and materials has made her famous to spinners and crafters alike.

Lexi has a new book coming out called Intertwined and it promises to be a visually stunning book filled with the hand spun of fellow indie fiber artists and patterns for using these avant-garde fibers! Her editor is giving away a FREE copy of Intertwined at the new CraftSide Blog. Pop on by their site to enter the contest!

By Jamie
You may also like...
Comments